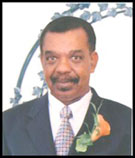 FOUNDER
Desmond A. Welch
MRICS, MCIOB, MASI, MCIArb.
Welch, Morris + Associates Ltd., formerly Welch, Morris & Associates was first established as a sole trader company in 1993, before being incorporated as a limited liability company in June, 2006. The practice started as a Chartered Quantity Surveying consultancy firm under the stewardship of the now deceased Founder and Principal at the time, Desmond A. Welch MRICS, MCIOB, MASI, MCIArb. Under Desmond's direction, the practice grew from a small one room practice to one that is a well respected construction consultancy in the twin island republic of Trinidad & Tobago.
As part of the Practice's efforts to continuously strive to exceed our client's expectations, the Building Services Engineering (Mechanical + Electrical Engineering) Division was born to offer our clients an improved construction consultancy experience.